Biography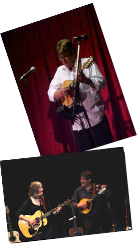 Since the mid 60's folk revival, Iain has been a well known part of the folk scene. His first appearance was at the Fox and Goose in Bradford. In those early days, Iain was known as an unaccompanied singer and it wasn't until '69 that he decided to try his hand at the mandolin (he says he is still trying!!). 1969 saw the formation of 'The Crofters' and, for over 12 years, along with Alan McAvoy and Kevin Renton, they performed on the folk scene both in the UK and across Europe, appearing at clubs and many major festivals.

They recorded their first LP Live at the Watermill, in Pately Bridge, Nidderdale and named an instrumental track The Pateley Bridge Special.
Tthis was soon followed by a further live album recorded at The Centre Hotel in Hull on the Workhorse label.

After "The Crofters" came "Leather Bottle" with Ray Tyrell and Tony McGrath who appeared at The Old Tradition in Harrogate every Sunday lunchtime for some 7 years, this was in the days when the pubs were only open between 12 and 2pm, most Sundays you would find a long queue waiting to get in so they didn't miss the music. Ray left the band and Iain and Tony continued as a duo for a further 5 years.
Then followed a very successful partnership with Mark Longster as "Early Doors" this lasted for the best part of 10 years. Together they recorded some 6 CD's some live and some home recordings. They were also regulars at The Jolly Sailor pub in Whitby booked by the then Landlord for the folk week.
Iain who remains a traditionalist, teamed up with Jeff Wright in the spring of 2003, to form "Keepers Fold - continuing the heritage of rich folk ballads and rousing chorus songs. This partnership came to an end in the spring of 2009.
Since then Iain has been performing solo as well as working with FiddLynManDoris, a four piece band originally with Lyn Geddes, Joolz Cavell and Rebekah Findlay, Lyn retired from gigging so Rebekah's husband Lee Huck took over on Guitar. The band went their separate ways in 2016.
Iain and Joolz Cavell now play as a duo.
In 2012 Iain had a trip to Nova Scotia, Canada to play some House Concerts and also joined McGinty on stage for a couple of numbers at The Old Triangle in Halifax. Iain returned to Nova Scotia in 2014 this time Joolz and her hubby went along and Iain and Joolz played a few gigs whilst touring around 3 provinces.